The long-awaited release of Marvel's Avengers Assemble has come around, and it is already setting the box office alight, and getting fantastic reviews as well. For those who are none the wiser, here is your quick guide to the Avengers


Warning: this contains backstory (i.e. what happens in the other films)
In 2008, Tony Stark ripped onto our screens, a billionaire arms-manufacturer and playboy, portrayed with an all wise-cracking, all scotch-drinking and all mumbling performance from Robert Downey Jr.
In the first film, he was kidnapped in the Middle East and had to construct a special magnet to stop a piece of shrapnel in his body from ripping his heart apart. This construction formed the foundation for the Iron Man suit.
He goes about flirting with his assistant Pepper Potts, played by a similarly mumbling Gwyneth Paltrow (though she does it at a higher pitch), flying around really fast and killing Jeff Bridges. Sure, he sounds like a tosser, but he's written with enough wit and verve to be thoroughly engaging, and Downey Jr. is very funny, when you can make out what he's saying.
It's similar form for the second film, though it really is mumbletasia this time with Mickey Rourke sporting a "Russian" accent. The plot is utterly predictable, but Iron Man remains one of the more entertaining superhero characters, being unencumbered by self-doubt or some hideous burden, other than his desire to drink his bodyweight in fine single malts.
Sometimes he's "The Incredible", sometimes he's "The", and sometimes he's just "Hulk", but in whatever rebrand he has appeared, Dr Bruce Banner's big, green alter-ego has proved the biggest challenge for Marvel adaptations, because sometimes he looks like he's selling sweet corn, sometimes he looks like he's on a donkey assisted quest to save the princess, and sometimes he's just a big, angry, green man with surprisingly resistant shorts.
This is a shame, because that essential aesthetic problem takes away from Banner as one of the more interesting Avengers. Sure, it's well-worn, Jekyll-and-Hyde territory, but Edward Norton managed to portray the man's intense struggle to control or defeat his inner monster in a sympathetic and interesting manner.
Norton has not returned for Avengers Assemble, and Banner will be played by Mark Ruffalo, but the character was last seen on the run in British Columbia having seemingly gained some control over his condition. So, there is definitely a bit of distance for him to travel before he can start avenging.
As a character, The Hulk is genetically linked to Captain America. Both are the result of experiments to make super-humans, but whilst Banner feels accursed by his powers, Captain Steve Rogers has only gained from his admittedly more successful transformation.
He is the first Avenger, because he's been around since WW2. A fiercely courageous but physically weak American, Rogers is transformed by a serum into the poster boy of the American forces in an entertaining enough film which has elements of Raiders of the Lost Ark and Kelly's Heroes. It has an amazing cast. Chris Evans is charming enough as the dully-heroic lead, but you've got Tommy Lee Jones being Tommy Lee Jones, Toby Jones as a Werner von Braun knock-off, and Hugo Weaving as the "too-bad-for-the-Nazis" villain who, under the skin, looks like a zombie chicken, whilst any film which stars Stanley Tucci should be seen.
Like all of the Marvel films, it's good fun as our characters tear across Europe at surprising speed for 1940s travel, even if this one is a little lacking in the wit department, but we left the Captain stranded in Times Square, having had a seven-decade-nap post saving the world. He was, however, under the watchful gaze of Nick Fury.
Samuel L. Jackson, with an eye-patch. He may look like a pirate who would give Captain Jack a torrid time, but Nick Fury is the man who assembles the Avengers. He has been liberally distributed in cameos throughout most of the previous films, though he had something approaching a proper role in Iron Man 2.
He almost didn't continue his role after a contract dispute, wanting a couple of extra hundred thousand for his one day's work, but, then again, he is Sam Jackson. There's a lot of demand for that effortless cool.
Fury is the director of SHIELD, the agency which is behind the Avengers, but he has his men and women on the ground, chief among them…
Or Natalie Rushman. Or Natasha Romanoff. To be honest, she's had so many aliases that I've forgotten which one is real, but it doesn't really matter because it's Scarlett Johansson. In fact, it is just Scarlett Johansson, so much so that one hopes that she gets more to do in Avengers Assemble, because her role in Iron Man 2 was little more than pornography.
She turns up as a hot legal aide, and then becomes a hot, PVC-clad super-agent, and then she breaks into a facility of bad guys, and kills all of them and everyone just stares at her and the men are very happy. She is, at present, the second least developed Avenger, just behind…
Or Clint Barton. Hawkeye so far has had a small cameo in Thor, where he picked up his bow and arrows and didn't use them, but had a couple of decent lines, and was played by Jeremy Renner, which was nice. He was under the command of…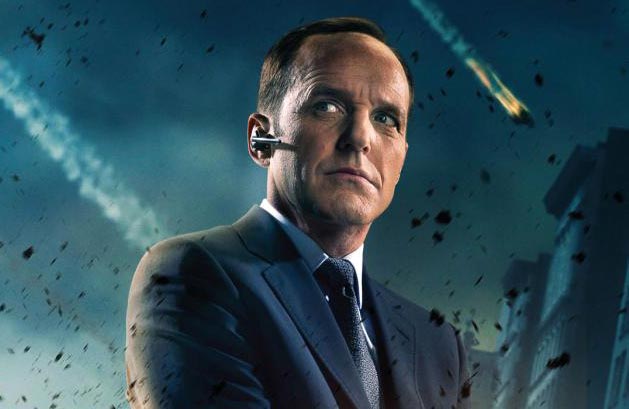 Clark Gregg apparently has the visage of an awesome government agent, having previously played Agent Casper in The West Wing. In the Marvel universe, he is Agent Coulson, the no nonsense, calm and collected, government agent, who hitherto has laid down the law to Tony Stark and, more importantly, come into contact with Thor.
Thor is the Norse God of Thunder, but he moonlights as a Marvel superhero. It is a slight oddity that this series of films, which, particularly in the case of Iron Man, has sought to ground its characters in some form of faux-scientific reality, chooses to include itself in the universe of Norse myth.
The film, Thor, is my secret favourite. It's quite deliriously silly. It's directed by Ken Branagh for Pete's sake. You've got Chris Hemsworth being terrifically sonorous in a "I am the God of Thunder" sort of way. Then you have Tom Hiddleston, who is always excellent, as the villain Loki, Thor's brother, who is the villain in Avengers Assemble. In Thor, Loki just wants to be loved by daddy, King Odin, played by SIR ANTHONY HOPKINS, giving us the full SIR ANTHONY HOPKINS over-the-top performance which he enjoys so much.
The last time we saw Thor, he was stranded in the celestial city of Asgard, unable to get back to Earth (he had to smash a rainbow bridge with his hammer; it made sense at the time) and see Natalie Portman, who, of course, he fell in love with, so he too has got some distance to travel to start avenging.
Did you follow all of that? Ok if not, because basically it's just wild fun and is there to be thoroughly enjoyed. Certainly there are questions (like, what exactly are they avenging?), but this is in the hands of Joss Whedon (
Buffy, Firefly, Serenity
) and promises to be an absolute cracker. Enjoy.