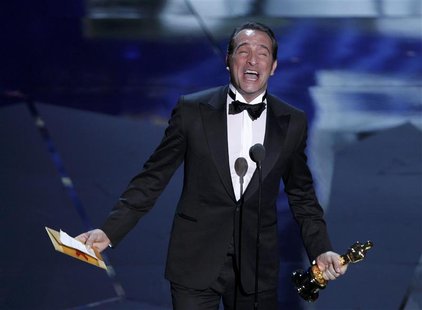 Silent Movie Wins Five Awards; Hugo also wins five
As widely expected, it was The Artist's night at The 84th Annual Academy Awards, as it won five awards, including Best Picture, Director, and Actor for Jean Dujardin. However, the Academy also showed its affection for Martin Scorsese's Hugo, which also won five awards in technical categories. Meryl Streep, Christopher Plummer and Octavia Spencer won the other acting awards.
Despite having won every award under the sun, all of The Artist's winners were deeply moved and all utterly charming, and, as has been the fashion this year, delivered cinephile acceptance speeches. Dujardin thanked Douglas Fairbanks and said to the audience "I love you're country". He later confirmed that he did drop the French equivalent of the F-bomb in his speech. When director Hazanavicius and producer Thomas Langmann accepted the Best Picture award, Langmann thanked Claude Berri, the director of Jean de Florette, and Hazanavicius thanked three people "Billy Wilder, Billy Wilder and Billy Wilder".
The only small surprise came in the hotly contested Best Actress category, where Meryl Streep won her third Oscar, ahead of Viola Davis, who had become the favourite over recent weeks, for her flawless portrayal of Margaret Thatcher in The Iron Lady. Accepting the award to a huge standing ovation, Streep said "When they called my name, I could hear half of America going "Oh, no. Oh, come on. Her again?" But, whatever." She later acknowledged that she knew "she was never going to be on this stage again", and joked backstage that two of her fellow nominees hadn't been conceived when she last won an Oscar.
Christopher Plummer, who won for his role as an elderly man belatedly coming out as gay in Beginners, delivered the most wonderful speech, turning to his long-awaited Oscar and saying "You're only two years older than me, darling. Where have you been all my life?" Having received a standing ovation, he joked that he has been practicing his acceptance speech since he was pulled from his mother's womb, "but, mercifully for you, I have forgotten it". He became, at 82, the oldest Oscar winner ever.
Octavia Spencer, winning for The Help, received a standing ovation, referred to the Oscar as "the hottest guy in the room" and heroically tried to hold it together before looking at the autocue and saying "Please wrap it up? I'm wrapping up. I'm sorry. I'm freakin' out."
Other highlights included Bret McKenzie, from Flight of the Conchords, winning an Oscar for Best Song for "Man or Muppet" from The Muppets and Woody Allen (not in attendance) winning for Best Original Screenplay for Midnight in Paris. Before the evening got going, Sacha Baron Cohen arrived on the red carpet dressed as The Dictator, and spilt the ashes of the late Kim Jong Il on the carpet, and on Ryan Seacrest, to the delight of the twitterati.
Best Picture: The Artist
Best Director: Michel Hazanavicius – The Artist
Best Actor: Jean Dujardin – The Artist
Best Actress: Meryl Streep – The Iron Lady
Best Supporting Actor: Christopher Plummer – Beginners
Best Supporting Actress: Octavia Spencer – The Help
Best Original Screenplay: Midnight in Paris – Woody Allen
Best Adapted Screenplay: The Descendants – Alexander Payne, Nat Faxon and Jim Rash
Best Score: The Artist – Ludovic Bource
Best Animated Feature: Rango
Best Cinematography: Hugo
Best Art Direction: Hugo
Best Costume Design: The Artist
Best Editing: The Girl with the Dragon Tattoo
Best Foreign Language Film: A Separation
Best Make Up: The Iron Lady
Best Sound Editing: Hugo
Best Sound Mixing: Hugo
Best Visual Effects: Hugo
Best Original Song: "Man or Muppet", by Bret McKenzie in The Muppets
Best Documentary Feature: Undefeated
Best Documentary Short: Saving Face
Best Live Action Short: The Shore
Best Animated Short:
The Fantastic Flying Books of Mr. Morris Lessmore