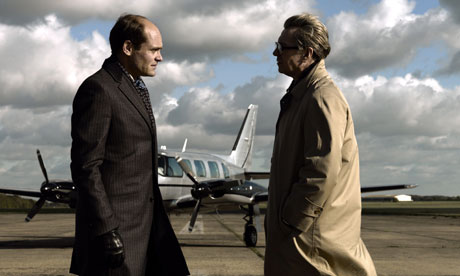 Tinker Tailor Soldier Spy may be the only nominee to also be up for Best Film, but that's no guarantee for success in the Outstanding British Film Category
The Best British Film category at the BAFTAs should be an open and shut case, shouldn't it? Tinker Tailor Soldier Spy is nominated in that category, but is the only nominee to also be up for Best Film, so it must win, right?
In the past, whilst Best Film was voted for by all BAFTA members, the Best British Film award was decided by a select jury, whose opinions often differed wildly from that of the whole Academy, who had determined the nominees in the first place. In the past few years, An Education, Slumdog Millionaire, Atonement, The Queen, The Constant Gardener and Vera Drake have all been nominated for Best Film but failed to win the Best British Film category. In the cases of The Queen and Slumdog Millionaire, this has resulted in the paradoxical situation where the Best Film winner hasn't won the Best British Film category on the same night.
However, perhaps to avoid that apparent contradiction, BAFTA now opens up voting for Best British Film to all of its members. No longer is the category in the hands of a specialist jury who often support films which may unfairly be described as minority interest pieces. So, that means that Tinker Tailor's bound to win, right?
Consider how the nominees are decided upon. The five most popular contenders in each category get nominated. So, all we know is that Tinker Tailor was popular enough to get into the top five for Best Film. We don't know if the people who didn't vote for it will back it in the final round of voting for any category. Furthermore, it is possible that a few voters might not have seen some of the films up for the British Film award before the nominations came out. They are busy people after all, but now they almost certainly will have done in order to consider the nominees properly, and they may have changed their minds. The way the nominations have gone is not necessarily an indicator of how the awards will be distributed.
There is no guarantee, therefore, that Tinker Tailor will win, but it has to be the favourite, and deservedly so. It is a terrific piece of cinema, flawlessly assembled by all who made it. So, what could challenge it?
Enjoyable though My Week with Marilyn is, it is too light to really challenge the superior spy-thriller. The intense and harsh sex-addiction drama Shame will probably prove too divisive and, dare I say it, too bold for many. It is also an imperfect though thoroughly impressive work.
This leaves us with two real contenders. The challenging and supremely well directed We Need to Talk About Kevin has certainly got the quality to cause an upset. However, like Shame, its darkness, which would have been an asset in the days of the jury vote, may prove off-putting for a lot of BAFTA voters. There is no such problem with the thrilling documentary Senna, which is another masterpiece. Shockingly overlooked for the Best Documentary Oscar, it is a gripping and intriguing look at the charismatic and enthralling racing driver Ayrton Senna. It has proved very popular, being a surprise box office hit, and it could well provide an upset here.
Either of those two has the quality to beat Tinker Tailor, and all three would be worthy winners. As I say, you'd be brave to vote against the spy thriller, but don't be too shocked if there is an upset.
The BAFTA Film Awards will be held on Sunday 12th February and broadcast on BBC One at 9pm
Tomorrow's preview looks at the Best Supporting Actor category